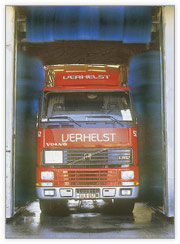 Transportbedrijf Verhelst and Transeurope have their own modern maintenance workshop where experienced and well-trained technicians keep the trucks and trailers in perfect condition. The in-house truck wash furthermore ensures that our trucks can hit the road every day in excellent and clean condition.

Every truck is also equipped with a black box system. This system enables the company to better monitor various elements such as driving hours and loading and unloading times.

Transport Verhelst also guarantees thorough training of truck drivers. Every newly recruited driver follows a one-week training programme until he has mastered all required skills.

Transport Verhelst is also an advocate of 'more safety on the road'. The campaign regarding the blind spot mirror as organised in the vicinity of schools in collaboration with the local authorities has led to positive results in recent years.

Transport Verhelst furthermore has the required permits to transport ADR liquids and oversized loads.